Pediatric Chiropractic McFarland, Madison WI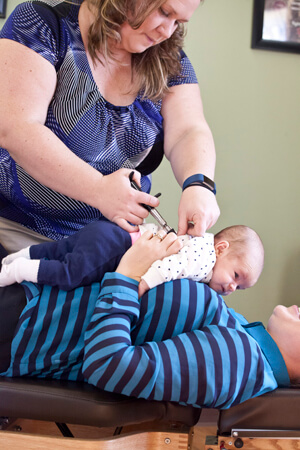 Every parent wants their child to be healthy. Your child might have a common issue such as an ear infection, bed-wetting or colic. Though chiropractic can help with these conditions, it's also appropriate for kids who aren't sick. Our team loves to help children who are growing, developing and get exposed to many illnesses at school or daycare.
You'll find that your child is less likely to get sick while under chiropractic care. It can also assist them in having greater focus and regulates their moods. You can find solutions for many types of childhood ailments at Health Journey Chiropractic.
Getting Started
Are you concerned that your child may not be able to sit through a consultation? If that's the case, our doctor will be happy to meet Mom or Dad alone. You can sit down to discuss your child's challenges and their health history. Then, they can come with you to another visit to start their care.
We have the Insight™ Subluxation Station, which takes noninvasive scans. The process lasts for just a few minutes. With this technology, we can see the location of any problems with your child's nervous system. It provides essential information to understand their needs.
Your child will only be adjusted when they feel ready for it. We want our office to be a fun, happy place for them, and make every effort to give them a positive experience.
Techniques Suited to Children
The team uses a technique called the Functional Analysis Chiropractic Technique, or FACT. The chiropractors can adapt it to your child's age with a lighter pressure. There are also instruments that can be used on kids, and we have a drop table to make their adjustment easy on them.
Frequently Asked Questions
Why does a child need chiropractic care?
Every child has a nervous system, just like adults do. They're constantly active, are growing by leaps and bounds and need to stay healthy. We think that kids are resilient. But an injury during childhood can be the start of disc degeneration and other conditions. Even if your child doesn't have a trauma, chiropractic can make sure their nervous system operates at an optimal level.
Is chiropractic care safe for kids?
Yes! Chiropractic is appropriate and safe for all children, starting from newborn babies all the way up to teenagers. We'll adapt the pressure to them for the adjustment.
Schedule Your Child's Appointment
Have you been searching for a kids chiropractor? You've come to the right place! We can check your child's nervous system to make sure they enjoy the best of health. Contact us today to schedule a visit for pediatric chiropractic McFarland! We have late opening hours.
CONTACT US

Pediatric Chiropractor McFarland, Madison, Stoughton WI | (608) 838-1203